Shree Vishvamangala Lakshmi-Narasimha
Nitya Mahayajnam
Daily "Maha-Yajna" for the World Welfare.
DEERGHA SATRA MAHAYAJNAM
Maha-Yajna performed every day, for the next 12 Years.
DATE
From: 13th May 2022
To: 1st May 2034

Download Brochure
Choose your language
Welcome to Shree Lakshmi Narasimha Kshetram!
Centre for Prayer for Universal Welfare – The Yajna Bhoomi
This Kshetram came in to existence after the Bhoomi Puja was performed in the year 2009. The first phase of the temple was consecrated in the year 2012. The temple is known as Shree Vishva Mangala Lakshmi Narasimha Swamy Devasthanam, familiarly known as Shree Lakshmi Narasimha Kshetram- Dakshina Naimisharanyam. The presiding Deity of this Kshetram is Shree Yogalakshmi sameta Shree Bhargava Narasimha Swamy, also known as Shree Vishva Mangala Lakshmi Narasimha Swamy. Since, the day of His manifestation in this Kshetram, many prayer programs have been conducted. More than 800 Yajnas have been performed in this very holy Kshetram praying for the betterment of the entire humankind. Prayer is the only way to evolve consistently in both material and spiritual aspects of life.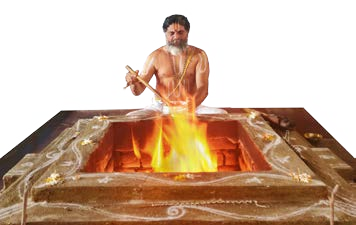 About The Yajna
Yajna is the most powerful form of prayer to invoke the blessings of the God. The Sanskrit word Yajna comes from the Sanskrit root "Yaj", which means worshipping the Deity. Chanting the Mantra of the chosen deities and offering oblation in the sacrificial fire (Agni Bhagavan) once is called Aahuti. These offerings are carried by Agni to the corresponding deities and they in return grant all the boons and answer our prayers.
During the Yajna, various natural products like Ghee, Honey, Milk, Paddy, Wheat, Sesame seeds, twigs of various holy trees and plants, fruits, flowers and medicinal shrubs are offered into the Sacrificial Fire, while chanting the Mantras of the chosen deities, with absolute faith, devotion and dedication. This process is called Yajna or Homa or Havan.
Shree Vishvamangala Lakshminarasimha Nitya Mahayajnam
A Daily Yajna for World Welfare
Seers and Sages of Bharata Desha who were inspired by the Divine providence were involved in performing Yajnas continuously for days, months, years and even several decades called as "Satra Yaga" or "Deergha Satra Yaga", praying for the welfare of the entire world.
By a similar Divine command of Bhagavan Shree Lakshmi Narasimha, Shree Vishvamangala Lakshmi Narasimha Nitya Mahayajna, "the daily yajna" will begin from 13th May, 2022.
The Maha-Yajna will be performed everyday for a continuous period of

12 Years

(till 1st May 2034).

Highly qualified Vedic priests from all over the country will be performing this Lakshminarasimha Mahayajna diligently, everyday, continuously for several years praying for the universal peace, prosperity and welfare.
Vedic priests belonging to Rig Veda, Yajur Veda, Sama Veda and Atharva Veda will be performing this Mahayajna in groups.
The group comprising 8 Vedic priests will in turn keep changing every 9 days. Vedic Scholars from all parts of the country shall be coming to perform this Yajna.
They will also recite the respective Vedas daily in the evenings.
This is a very powerful and a unique Yajna and is happening in this country after many centuries.
Daily Schedule
Morning: Yajna
8.15 AM to 11.45 AM
Evening: Parayanam
4.30 PM to 7 PM
We pray everyday for the betterment of each and every human being irrespective of caste, creed, colour, sex, race, religion, language and nationality. We welcome you to become a part of this divine mission by contributing your mite.
Bank Account Details for Contribution.
A/c Name: SHREE LAKSHMI NARAHARI SEVA TRUST
A/c No: 64048451511
Bank: STATE BANK OF INDIA
IFSC: SBIN0040521
Branch: METAGALLI INDL. AREA
Download Brochure
Choose your language