Shree Vishvamangala Vishvaroopa Anjaneya Swamy Devasthana Maha Samprokshanam
March 31, 2021 @ 9:00 AM

-

10:15 AM

UTC+5.5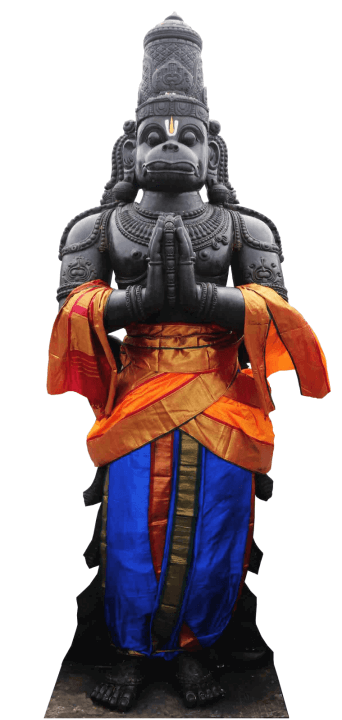 Please download the brochure for complete details: Click here
Sriman Narayana, with his divine consorts, Sri Devi, Bhoo Devi, and Neela Devi, enshrines Himself in various Divya Kshetras, being praised and worshipped by the mystic saints, The Azhwars and Acharyas of impeccable divine knowledge. The sole intention of Bhagavan Sriman Narayana, is to redeem the worldly-stricken Jeevatmas, who are none but us, His children, from the samsara chakra of birth and death, and grant us the eternal Vaikunta Dhama.
"Shree Lakshmi Narasimha Kshetram", which is being praised by great acharyas and saintly people as "Dakshina Naimisharanyam" is one such Divya
Kshetram in the precincts of the holy river Kaveri, in a village called Belagola, is located 15 km northwest of ancient holy city, Mysore.
The temple of Sri Lakshmi Narasimha, at this kshetram, was consecrated in the year 2012. By the divine command and inspiration of Bhagavan Sri Lakshmi Narasimha, a new temple has been constructed for Sri Vishvamangala Vishvaroopa Anjaneya Swamy. The samprokshanam of this new temple will be performed on 31st March, 2021. We request and invite all the devotees to participate in this divine occasion, and attain long and healthy life, aterial prosperity, joyous family life, name and fame, courage and confidence, success in all endeavours, divine knowledge, unflinching bhakti and all round welfare by the grace of Bhagavan Sri Lakshmi Narasimha and Sri Anjaneya Swamy.
Click here

to download the brochure